How can Instagram help to grow your business?
What awaits us on Instagram? How to create visibility on this social network, attract followers and increase the success of your brand or business? I hope that together we will come to an answer through the text that follows: Instagram – the network in focus (pun intended :)). 
What do trends and predictions say?
Pandemic accelerated the development of e-commerce platforms. Users have been encouraged and started buying more and more through websites, and social commerce has also developed. Going from the app to the website for users means one step more to the purchase. As a result, many businesses have already set up their social commerce strategies and shops, and networks have provided them with in-app shopping solutions.
Within the Instagram app, there is a Shop tab within which you can view the offer of stores. Trends tell us that 90% of user accounts on Instagram follow some business account. Users of this network are driven by the need to be inspired, discover new things that interest them, and that includes content created by brands and businesses. About 60% of people say they have discovered new products right on Instagram.
Instagram's video-first strategy and focus on Story and Reels shows us how Instagram is transforming from the ancient beginnings of this network and listening, monitoring user habits and their needs for consuming content, in this case, shorter video formats.
With the announcement of Ray-Ban Stories, smart glasses, Metaverse and innovations from Reality Labs, we can already see that Facebook is giving importance to AR and VR technologies. Instagram filters have become a hit among users, and Spark AR studio allows everyone to create 2D, 3D, AR effects or filters.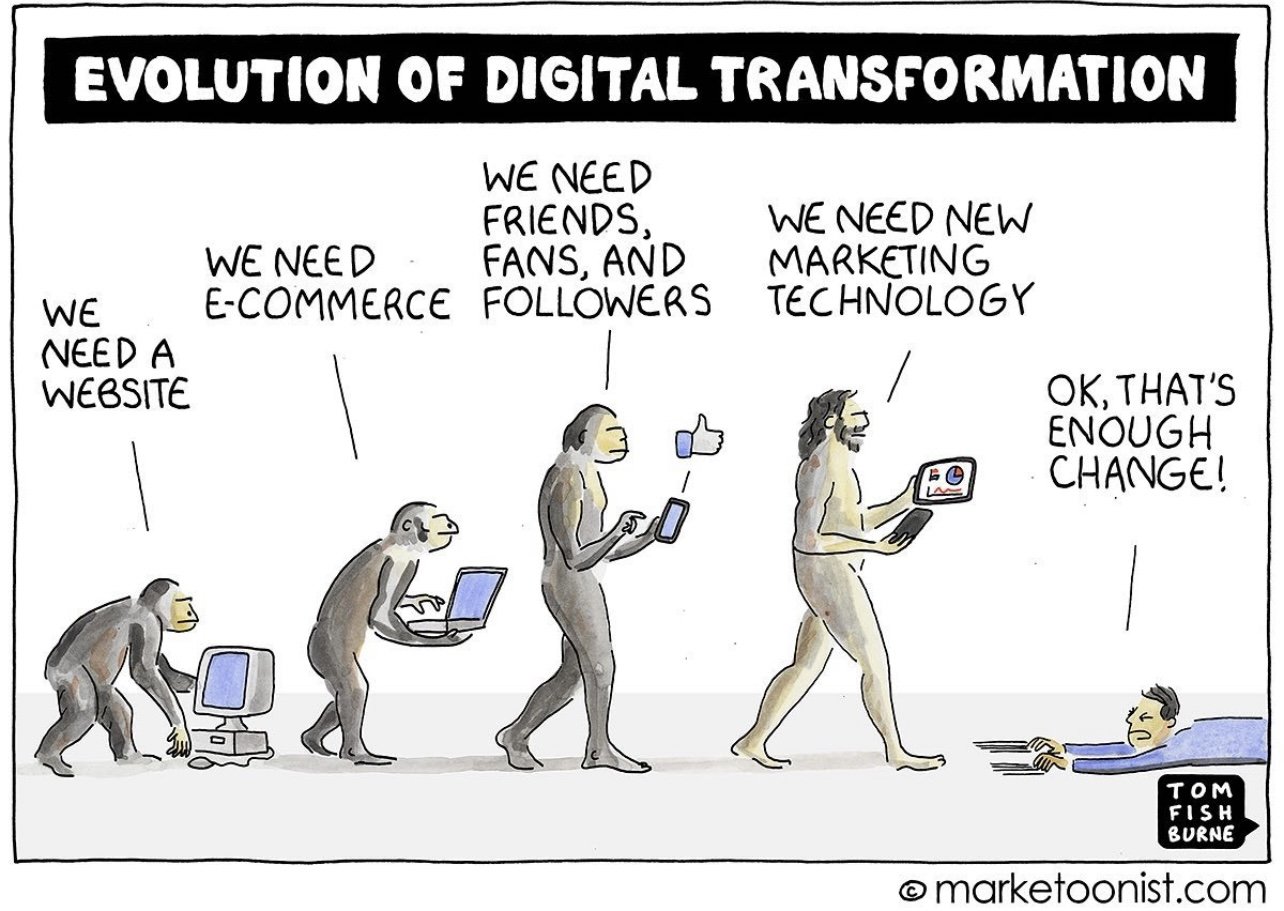 Illustration 1: One of memes about digital transformation 
Source: @marketoonist
What is the right Instagram strategy?
For starters, ask yourself – is your audience on Instagram? Over 200 million Instagram users visit at least one business account a day. Most users are women. What age is your target audience? You may need to tailor your digital strategy and redirect communication to the younger part of your target audience on Instagram. It is very important that you precisely define your target audience because you will create content according to it. It is important to remember – not everyone is your target group. Here is a general example – it is possible that your brand focuses on attracting young dads, but you are already followed by young moms who will recommend your product to dads with the recommendation to start following them. This does not mean that you need to completely change your strategy, but to consider expanding the target group, introducing content for the secondary target group or young moms from the example.
What is my goal? 
What is my goal?
On Instagram, the goal is most often to attract the target group, to connect and to convert them into our ideal consumers. First, you need to answer the question for whom are you making the content? If you "get" content that will attract a part of the target audience, there is a greater chance that they themselves will spread the story about you to their friends, and thus you will get more visibility. It is important to remember that you are creating content for your target audience, not for yourself. It is a common mistake to like something personally, but that does not mean that our target audience finds that content attractive or relevant.
To answer the above question, here are some more important questions to ask yourself:
Who – who is your target audience? Apart from gender, age and location, think about what they do, what are their interests?
What – what does your target group need? When you know who they are, ask yourself what they need, what challenges they face, what solutions are they looking for?
Why – why does your target group want something, what is their driver and what are their goals?
In order to define goals, first, decide what really matters. Some goals are less important, such as the number of likes. Don't forget your business goals and what you really want to develop or improve. Contact us for support and together we will reach the right goals for your business or brand.
What type of content do I need?
The content on Instagram is much more than a posted photo, video and caption. If you really set a content strategy strategically, then you will take care to pay attention to details in addition to posting the content and caption. For example, in the caption, you will give context to a photo or video, use emojis and add an invitation to an action such as: "Big discount on all courses! Click on the link in the bio. "
I recommend using a note-taking app (e.g. iOS Notes or Notepad for Android) where you can pre-prepare the captions or hashtags you use. This way you will easily edit everything and still just copy to the app when posting content.
Instagram is focused on visual content. The things that you post on your business account is the foundation of your business strategy. You strive to inspire people with your content to want to work with you, support your business, or buy your product. It is an increasing challenge to reach a large base of followers if you do not provide quality content. Be ready and patient to get great results and create a community of really valuable followers, try the content to find the one that your audience will respond best to. In order for your account to become recognizable, your content must be of high quality and consistent. This means that your account should visually look neat. If you set up a visually unique Instagram account, you are more likely to be attracted to follow your content.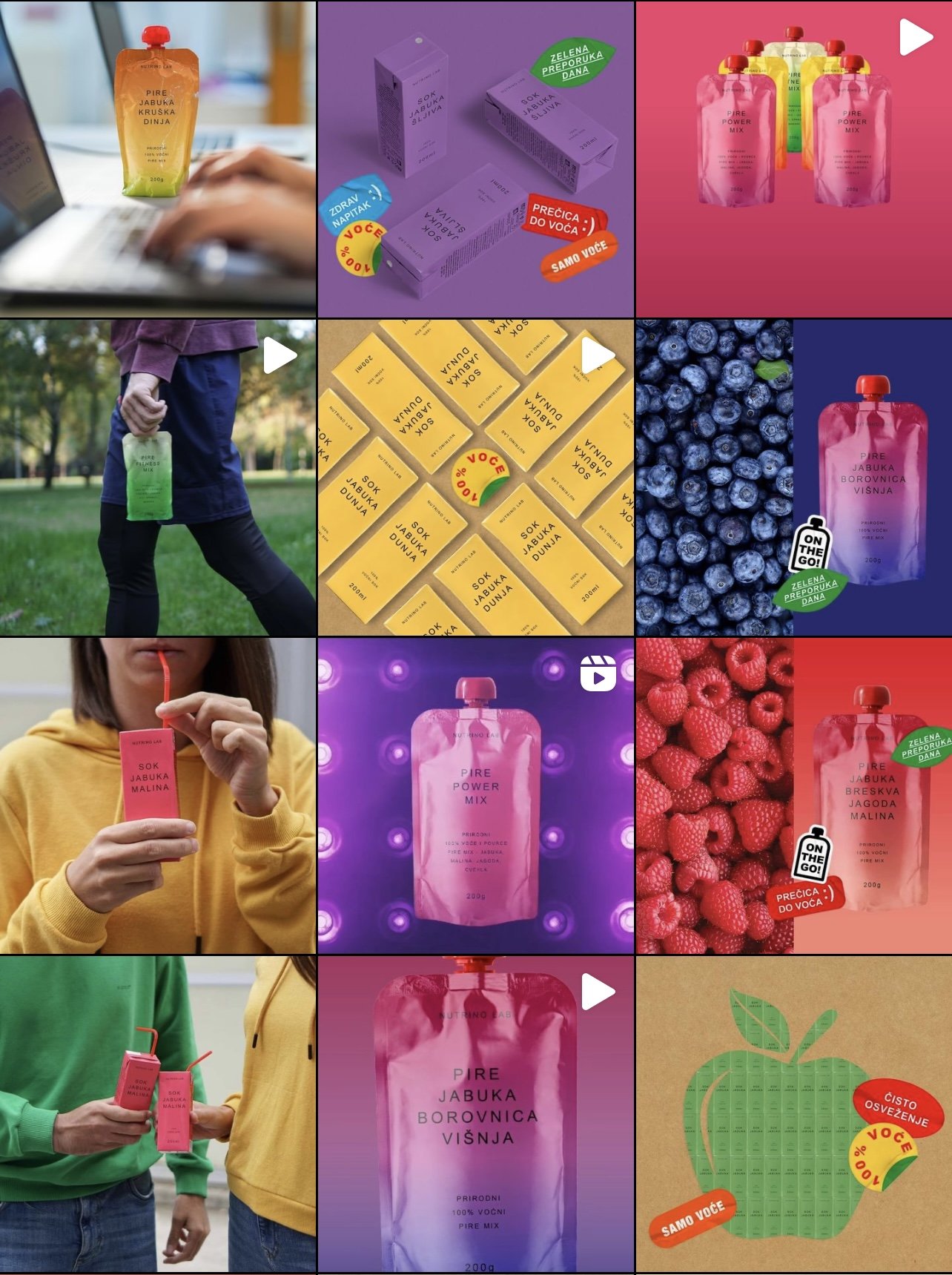 Illustration 2: Example of visually consistent appearance
Source: @nutrinolab (Instagram)
Instagram is continuously introducing new options and improvements, and from my experience, as soon as you try these new options, the application itself will support you, in other words – in order to promote their new functionality, Instagram itself will "push" you and suggest you in search as a good example of using the new option.
Do hashtags and locations increase visibility?
Within the Instagram app, you have access to search hashtags, accounts and locations. My suggestion is that before you start with posting, but while planning and developing a strategy, do an analysis of the competition and their Instagram accounts, as well as research the most commonly used hashtags in your industry or business area. When you do the analysis and research, I promise that it will be much clearer to you what the market is like, what strategy the competitors apply, how the audience reacts to the content, what questions they ask and what they are looking for, etc.
By definition, hashtags are a word or phrase that begins with the so-called sign "hash" and it is used on social networks and apps to sort messages related to a certain topic.
This means that adding hashtags can make it easier for potential audiences to find their way to your account. They are very important and are especially good because through them the audience can discover your account if they are interested in a certain topic. You can also use them to get ideas for content and communication by checking what content is being communicated on a particular hashtag.
Make sure the hashtags are relevant to your content and account. Don't always use the same hashtags, experiment. Choose those hashtags that are from your industry. Your content will be less visible if you use a hashtag that is used a lot, so try to find one that is relevant but less used because it is more likely that users will notice what you have posted. Track performance and customize the use of hashtags – if you come up with just 5 hashtags that bring you great results, use them. You can write hashtags in the caption, but also in the comments below the post.
Also, do an analysis of the locations that are relevant to you, say in your city, and so see if it makes sense to use locations when posting, and which ones. If your business has a physical location, be sure to use a special location when posting. This is one way you can make it easier for potential audiences to discover you. There are various examples in the hospitality industry where the physical location has adapted to the habits of Instagram users by arranging space, menu and communication in which they invite the audience to take photos and videos, and of course tag the location on Instagram.
What formats are there?
Instagram Story – a great format to convey a message to the audience where you are and what you do, used to share moments during the day, to convey the atmosphere of the event, to show some behind-the-scenes, you can include some of the interactive options such as polls or questions and so you get audience feedback. Reactive content is as created for Story. Offers, discounts, sales, giveaways, new posts … are just some of the examples of what you can post. There is an option to directly link your site, blog post or any other web location whose content is relevant to your business within Story. If you also use the hashtag your Story will be more visible on multiple feeds. You can use polls that can be fun to engage the audience, but you can also ask the audience which of your products they prefer, use and so on. In addition, you have the option of asking questions via Story, which can also bring you insights through more detailed answers written by the audience in your inbox. You can include music, location stickers, play with fonts, colours, draw, quiz, vote, With lots of different tools within Story you really have unlimited scope for creativity in conveying your key messages.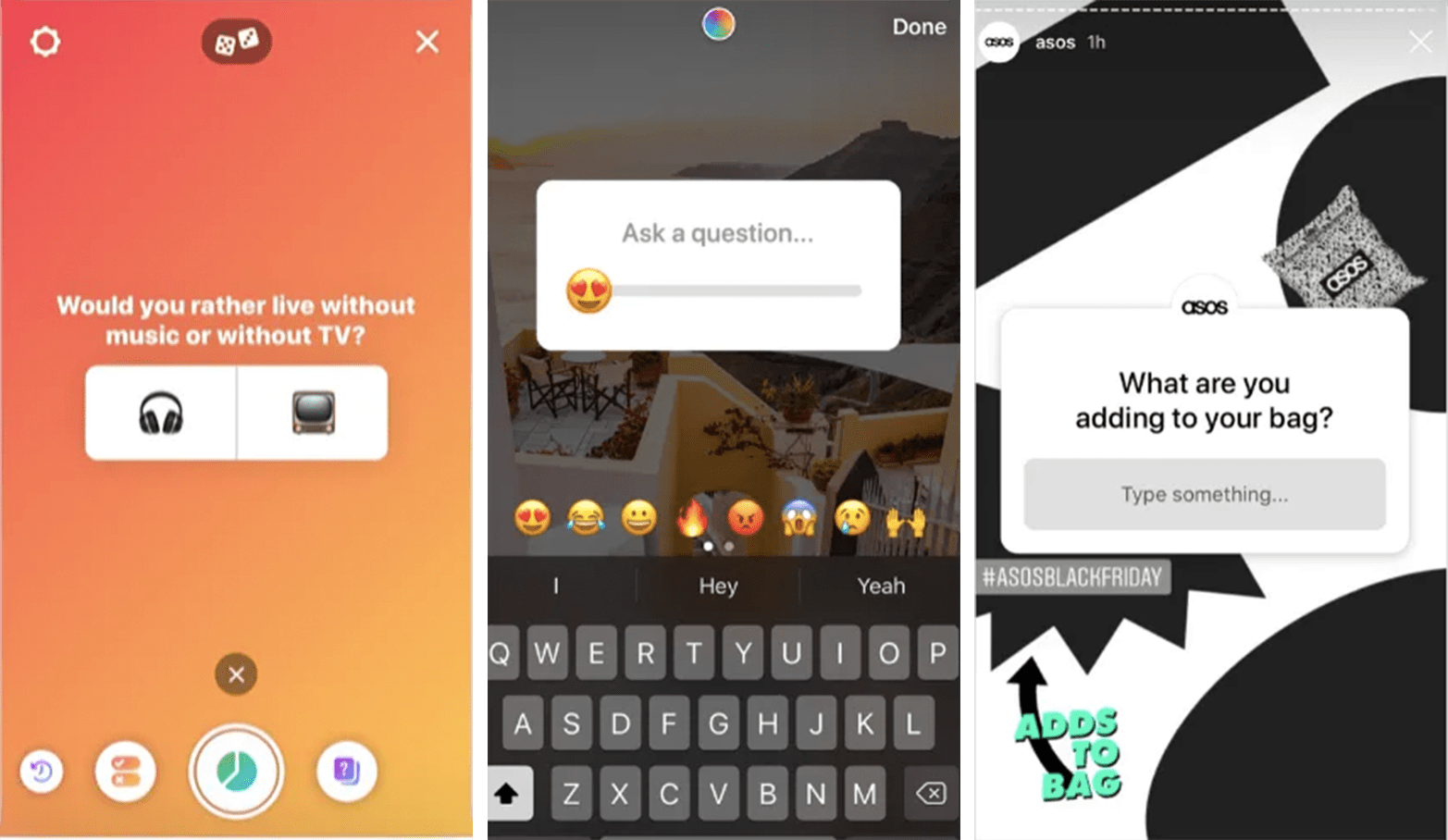 Illustration 3: Instagram stories functionalities
Source: Later blog
Highlights – these are almost small folders in which you can save selected Instagram stories so that they are visible even after 24 hours. Make sure that your highlights are neat and in line with your account. You can set them themed and edit them to match the colours of your brand and account.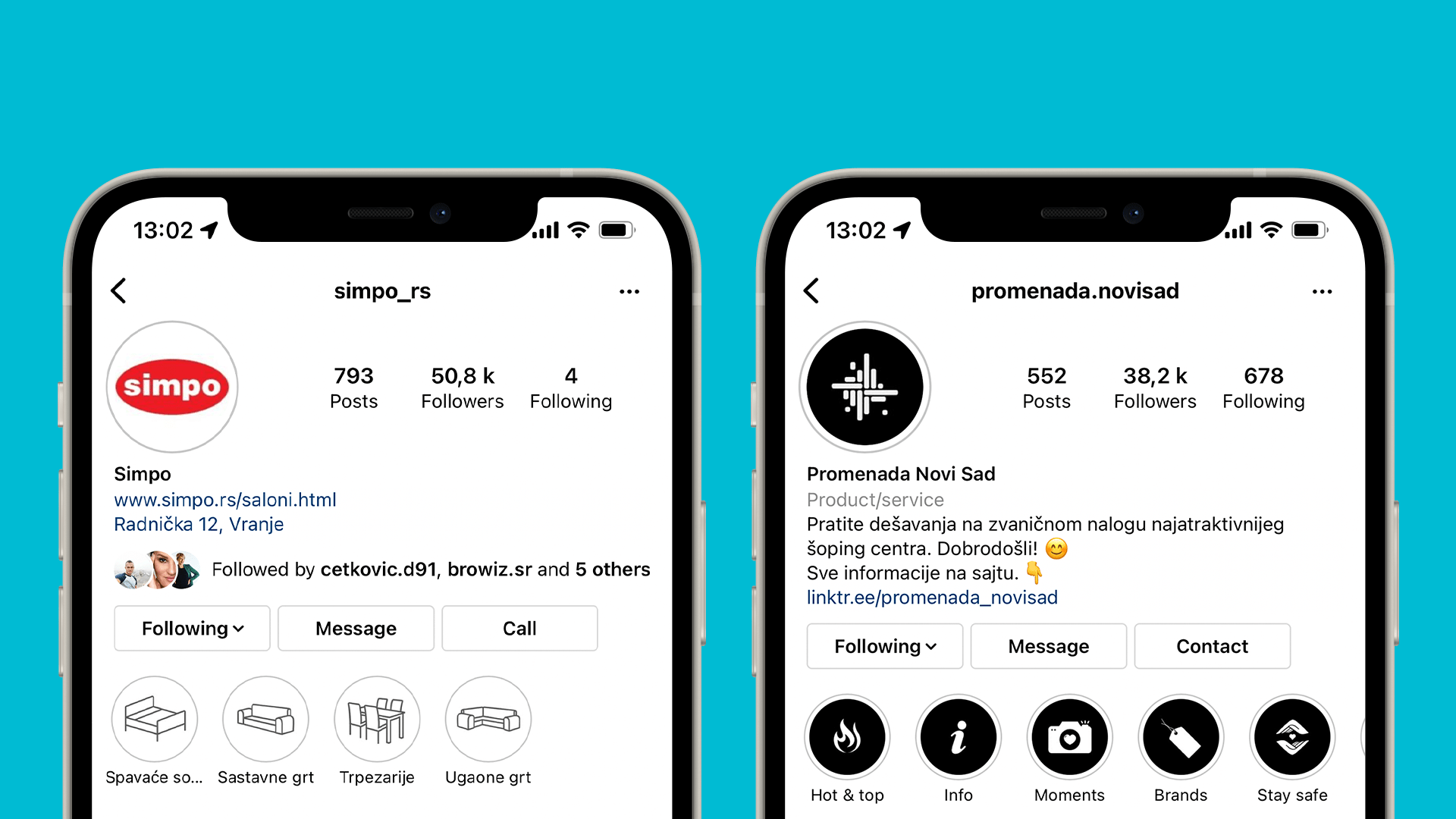 Illustration 4: Example of neat highlights
Source: @simpo_rs and @promenada.novisad (Instagram)
Live – is real-time streaming and a great option for broadcasting an event you are at or organizing a Q&A (questions from your followers and your answers). This format can further enhance your engagement, especially if you enter the discussion and answer people directly to the questions they asking you during the live.
IGTV #dead – when IGTV has launched a couple of years ago, we thought that a new trend of longer videos was starting on social networks. However, a month ago, Instagram announced that it was merging IGTV and video posts from the feed within the new Video tab on profile "to make it easier for people to discover new videos."
Guides – guides have been launched to make it easier to find, collect and share the products, locations and posts of our favourite accounts. These "mini-blogs" are great for sharing recommendations and tips, and especially for presenting a collection of products. In addition to posts, you can write comments so this is really a good way to be a guide to your audience.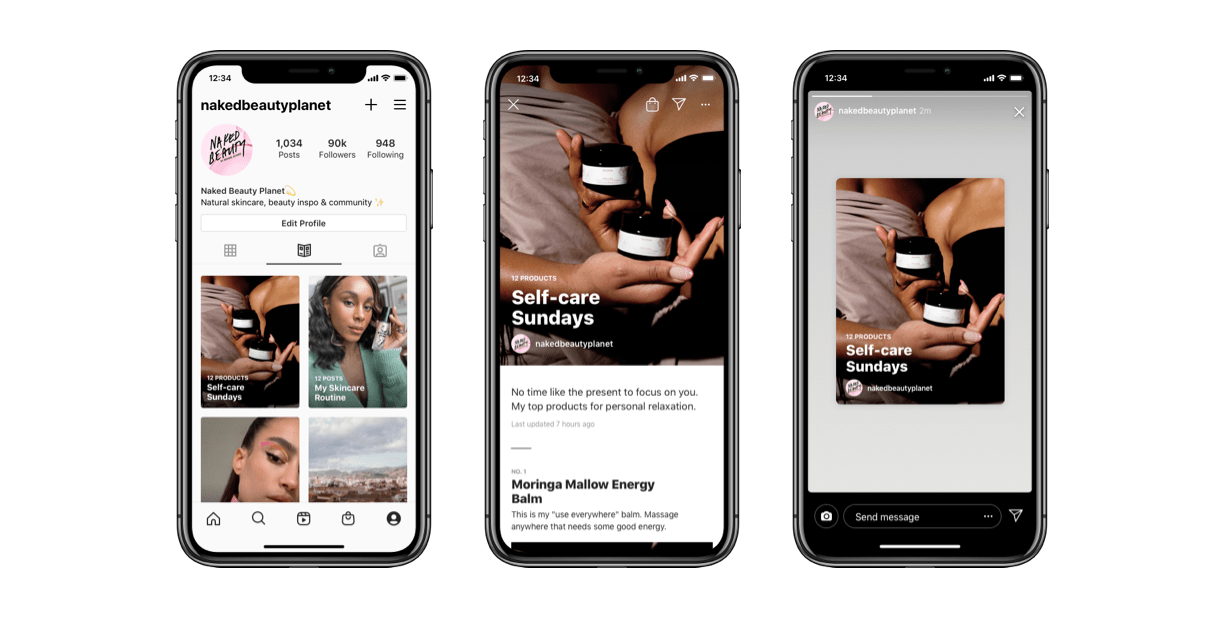 Illustration 5: Example of guides
Source: Instagram
Reels – this is Instagram's response to TikTok and the creation of short creative video formats. You can choose from a variety of video editing tools, add more videos to merge, use filters, AR effects, audio, music, and more. Reels have their own special tab within the app where you can view the content of other creators. You can share your content on the feed or via story. It is a good format for sharing how-to, educational content, details or use of your products, behind-the-scenes, etc.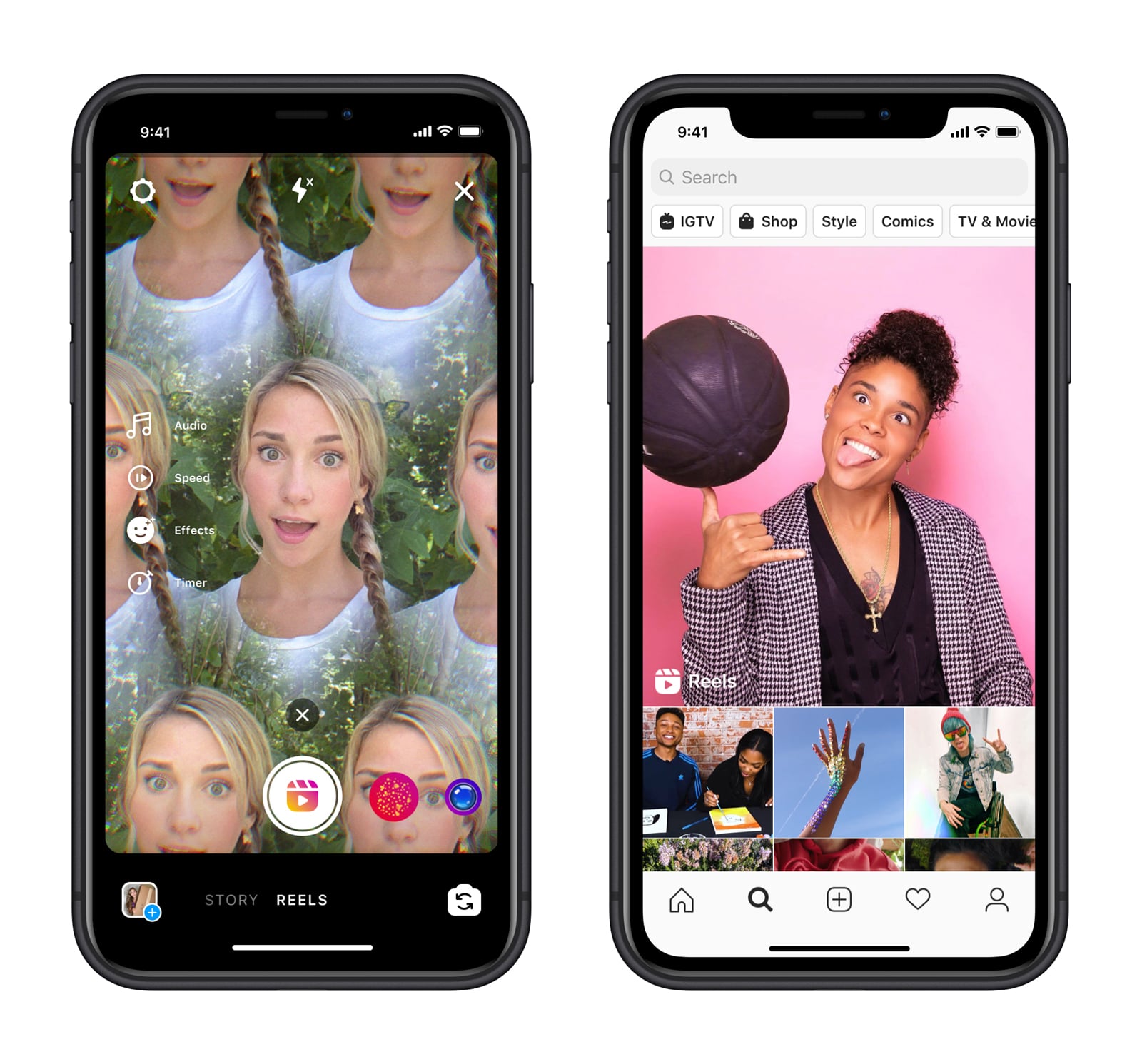 Illustration 6: Example of Reels
Source: Instagram
How does Instagram Shopping work?
Instagram shopping is like a digital shopping mall, it allows shopping directly from the Instagram app. Instagram Checkout allows users to shop directly from posts and Story. The purchase is made within the application itself, and after you make the first transaction, all the information is saved so that you can make each subsequent purchase even faster.
In order for shopping to be possible, you need to have an Instagram business account and link it to the Facebook product catalog in which you have entered your products and prices. Once Instagram grants you a shopping account, turn on Shopping through the settings in your account under Business. Customize content. For example, if you sell clothes, take photos with certain products that you will tag. By clicking on the tag of a T-shirt, jeans or glasses, followers will be able to see which product is in question and which price. If they click on them, they will be able to make a purchase immediately.
Just one more thing 🙂
GIFs and stickers are very much used in communication on social networks, especially on Stories. They are a great way to add value to the community that follows you, to help them express themselves using stickers with prints, proverbs, slang, reactions and the like. By them, the community will get an extra way to communicate what it wants, and you will achieve extra visibility of your brand or business, especially if the stickers are customized e.g. in your colors.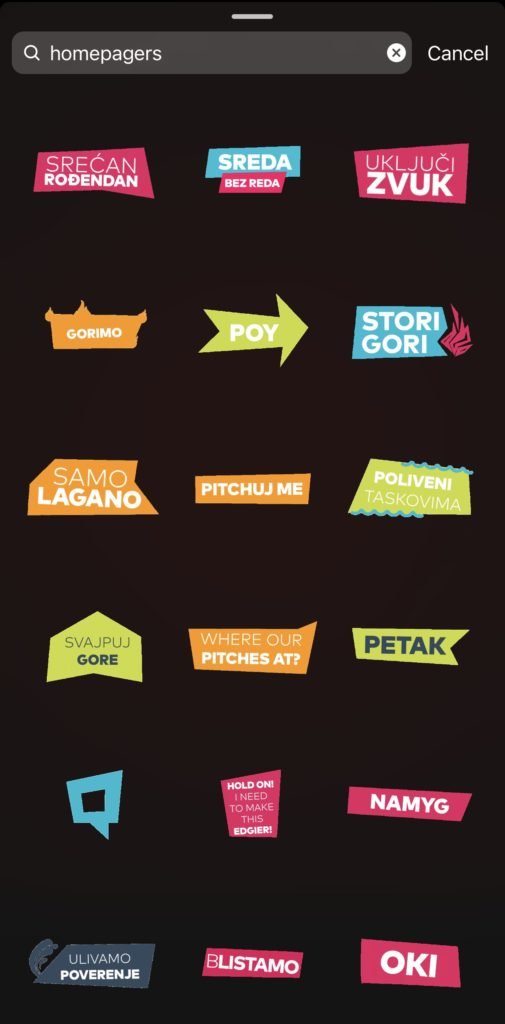 Illustration 7: Example of Homepagers GIF stickers
Source: Instagram
Danica Marković
Head of Creative Production