5 Steps in Creating Advertising Campaigns
There is a slew of marketing models and tools we use for creating marketing strategies. Take the example of a classic 4P model— Product, Place, Price, and Promotion. Many agencies across the globe have adopted it. Similarly, we have a newer 4C framework, which stands for Clients, Costs, Communication, and Convenience. These concepts are quite useful for strategically positioning the company, according to the predetermined plan and without going into operational aspects. The thing is that models are of little use when going about the practical execution of the strategy. 
They don't tell us anything about specific steps we need to undertake in order to convey a message to the target audience. Likewise, they fail to ensure timely delivery, cost-effectiveness and return on investment (ROI). We probably don't have to explain how important these things are. Fortunately, the most prominent players of today, such as Facebook and Google, have their methodologies rooted in machine learning (ML) technology. With them, everything is visible and measurable, and that clears the way for the rest of us. Of course, that is all presuming we know all the steps integral to crafting advertising messages. 
Let's get down to business and see what they are. 
5 Necessary Steps in the creation of advertising messages 
Step 1— Targeted Audience
People don't make buying decisions just like that. They are spoilt for choice and consider a variety of factors before coming to trust any brand. So, consider who you are talking to, what the essence of the message is, and how to measure the success of your efforts. It's also necessary to flesh out the creative part: the number of people you target and their location. Moreover, you want to define the quantitative aspect– what do these people prefer in terms of content, how they interact with it, and what their internet habits/interests are.
The narrower your focus is, the better advertising results you can achieve. This is the basic rule you would do well not to ever lose sight of. At this point, you can engage in brand personas creation as well. This preparatory step allows you to expand and deepen your target group. 
The good news is that you can count on help from algorithms and machine learning systems. They are designed to identify people similar to your existing audience members, based on their behavior and preferences. Just bear in mind you will never possess complete knowledge of your ideal message recipients. You always need to research them, as well as learn and adapt your approach on the fly. 
Step 2— Goals
The next step revolves around setting goals. Two categories are of great importance: sales and brand goals. The first one entails conversion of leads into customers, which takes place upon someone purchasing a product. The second objective is all about awareness people have of your business, what you do promotion-wise, and the values you uphold.  In theory, we rely on a well-known roadmap to success— SMART philosophy that guides us in setting our goals. This acronym implies that goals should be Specific, Measurable, Achievable, Realistic, and Timely. Also, it's a good idea to establish a sales funnel and come up with related key performance indicators (KPIs). The top of the funnel represents brand awareness. Descending, we find layers of interaction, learning, and activity. The very bottom of the funnel is reserved for conversions. 
Some additional steps introduce us to the concept of trust funnel. This innovative model is focused on customer retention and representation. It aims to pull back customers who would otherwise spend only once and move on. And don't worry: we don't have to specify every single step of the funnel. Instead, we can be selective and dedicate attention to focal points that correspond to our business case. 
It's also crucial to think about your general approach to people. We don't produce and promote content for ourselves, but the real people out there. So, refrain from shamelessly self-promoting because the audience will be fed up quickly. 
Step 3– Media Plan 
Now we come to the execution part, which sadly many small businesses tend to neglect. It requires us to determine necessary steps, as well as means of measuring them. Let's take into account three different aspects: customer experience, ad deployment, and dissemination of messages. In all these cases, the essence of what we want to communicate to the audience is defined by our goals. So, if we aspire to sell, then we initiate sales pitches that aim for the bull's eye. On the other hand, if we want to reinforce the brand, we must let our communication project this aspiration. 
As a rule of thumb, concrete, non-ambiguous messages always do better. Just imagine, the average internet user is exposed to 100,000 words daily. We need to do our best to stand out in this vast media ocean. Sending mixed signals isn't an option, not with the growing number of internet users and interdependency of humankind. We operate in a market shaped by the boom of digital media. Content production is accelerating and becoming ever more efficient. After all, we can automate various marketing and business processes. Alas, there's one thing we have to be aware of— we cannot have cheapness, quickness, and quality all at once. Two of those properties we might be able to score, but all three never. 
It's up to you to decide what to pursue!
If you manage to save on content, the messages will lack effectiveness, which also means promotion will fall short. Having exceptional content without the audience to see it isn't any good either. And in the ideal case, which is very rare in our market, the budget for promotion surpasses the content production budget. 
Step 4— Deployment 
Content publishing can drain the budget in no time. To avoid this scenario, we have to ponder the most effective platforms and destinations for ad deployment. We often encountered cases of budgets being spent without any real impact. Contrary to that, one Facebook post or Instagram story brings conversion at a price of a couple of Euros. For example, we all know that influencers earn pretty high daily wages. If you wonder if they are justified, we don't have a straightforward answer. They can make a real difference, but also devour the budget when they're not relevant to our target audience. When my tire went bust in an unknown city, a local vulcanizer popped up in Google search. This man certainly promoted his job well and knew where to dedicate resources. A Facebook ad wouldn't help much in this situation, would it?
The takeaway is all comes down to carefully choosing the optimal channel and platform.
Step 5— Measuring Success 
The process of measuring success isn't linear, but circular. Unless we measure, we don't realize when we pour money down the drain. We won't figure out the conversion costs more than the product we sell either. However, when we do measure, we know where we make mistakes, and then we can correct them. At the same time, we discover our strengths and are able to play to them. In practice, this process is called Test – Learn – Optimize. It always needs to be on top of your mind when developing advertising campaigns, as each stage is open to testing, measuring, and optimization. 
Notice these processes can be wrapped up in a brief— short document that echoes the cycle of action plan development through different phases. For those who don't know, it's related to all facets that comprise content creation.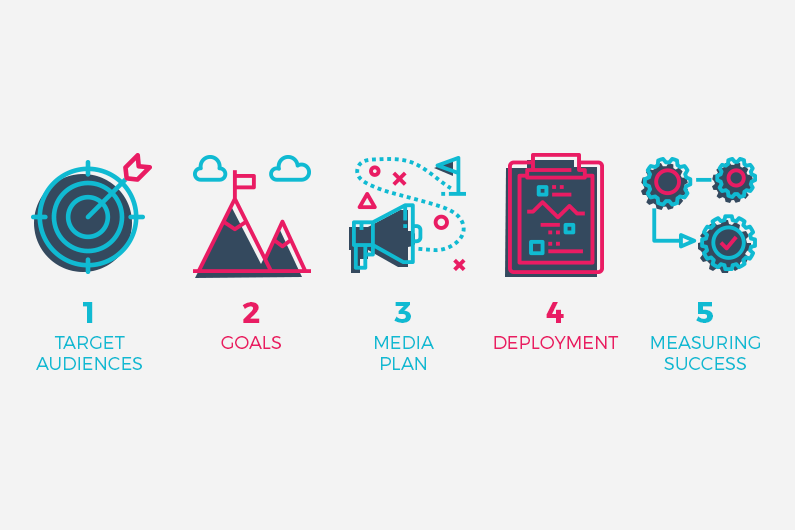 Image 1: steps in creating advertising messages
BONUS: How to create a good brief for advertising? 
In this bonus segment, we will take on the elements that make up advertising campaigns. We will show you all the things you have to pay attention to when briefing the agency or colleagues in charge of media planning in these agencies. If you provide them with detailed information, they will definitely ask you the following:
The general part
Kick off the writing workflow with a short, concise story that sums up the state of market affairs. Emphasize what it that your product brings to the table is. Ask yourself as well: "What is the exact consumer need my offer addresses?" Simply put, you have to think about what you sell, to whom, and why.  
Goals and KPIs
Next off, begin to deliberate on the funnel, SMART goals, and opportunities that stem from advertising. We're talking about brand awareness, interaction, action, conversion, and loyalty. This means you must set your main goal, as well as the end business goal. Additionally, it's advisable to have secondary goals that forward the main goal and double as KPI that show you where your campaign is going. 
Scope of work, target group, brand persona, and ideal buyer
We can divide the target population according to behavior, demographics, interests, connections, or parameters that algorithms supply us with. In the latter case, we analyze site visits; concrete actions performed on-site, or social media accounts brands employ. Here, we need to identify the core target as a point of focus, but also to add secondary target groups. 
Why is this so crucial? Well, effective marketing hinges on your ability to divide customers into groups and target them with different creative collateral and messages. 
Content, ad types, and forms of communication 
Every publishing/advertising platform has its specifics, and you need to adjust your content accordingly. Likewise, it's necessary to model the messages so that they cater to your target group. As for the content of messages, the situation is clear. When you want people to take concrete actions, it makes sense to ask them to do so. Furthermore, we have to underline a few rules. The textual component of ads must fit the recommended character count. The visual aspect (photos and videos) is to follow designated dimensions and advertising policies. 
To streamline your efforts, you can entertain the concept of a pillar— a topic that is of special interest to your potential clients. Using it, you bring added value and give them strong reasons to covert. 
Key messages that will be woven into communication play a pivotal role. Your digital strategy needs to really shine through them. 
Timeline and campaign execution stages 
Advertising doesn't have to be a constant activity. From time to time, we face seasonal fluctuations, campaign halts, and use tools like discounts. This ebb and flow of campaigns suggest the budget doesn't have to be fixed. We can allocate it into one six-month or annual plan, which is linked to our business plan. 
This brings us to the point that in general, all marketing activities should be aligned with the business plan and its priorities. This gives you a focus and a sense of purpose. 
Budget Outline 
Proper planning is everything, except when it isn't. As we approach the ultimate question, we also come across the hardest answer. Namely, there always seems to be one thing that looms over us. We're talking about budget limitations and our financial means. 
Indeed, how much can we afford to spend? 
Well, it's much easier to answer this when we have metrics in place and a taste of what we can expect. However, the tricky thing is that the price tag depends on a variety of factors. Strategic planning is supposed to factor them all in and give us the big picture. This overview must be in line with the business plan, as well as data-backed sales and conversion forecasts. Due to these close ties between marketing and business areas, marketers have seized to be people merely bringing in potential clients through the door. They also take an active part in other activities, including those that fall into a business owner and management domains. 
This unique role only strengthens the client-agency connections and amplifies the urge to hire the agency in the first place. Lastly, it reminds us of how important it is to be thoughtful when selecting your marketing partners. 
Image 2: the most important elements of the advertising brief