HOW DOES GOOGLE ANALYTICS 4 (GA4) WORK?
In October 2020, Google launched a new version of the most popular tool for monitoring and analyzing website traffic – Google Analytics 4 (GA4). The old analytics model (Google Universal Analytics) ends on July 1st, 2023; data monitoring and analysis on the old version stops after this date. Old data will be archived and available for the next six months.
How does analytics work?
The primary task of analytics is to collect and analyze data about the behaviour of website visitors, and some of the data we can analyze are:
The number of visitors in a certain period and their structure (are they old or new visitors)

Geographical location of visitors

Information about the traffic source from which visitors came to the site (e.g. Google advertising)

Time spent on the website – when our users are most active

What devices do they use?

Information about their interests

Data on site page visits and average content

Tracking and measuring conversions – for example, newsletter sign-ups, sales
How does GA4 work?
The new version of analytics will certainly continue to perform these tasks but in a slightly different way. GA4 focuses on gathering data about events, which provides more detailed monitoring and analysis of users on the website. It is possible to track clicks on specific buttons, product reviews, video file reviews, file download tracking, etc.
A significant segment is the harmonization of data on multiple platforms, such as websites and mobile applications, which means that tracking users on all channels within a single entity is possible. Google Universal Analytics was focused on tracking website traffic.
Google Analytics 4 will provide better integration with Google Ads, where more detailed tracking of users coming from paid promotion on Google Search and the Google Display network is possible, as well as which ad gave better performance and how users behave after clicking on the ad.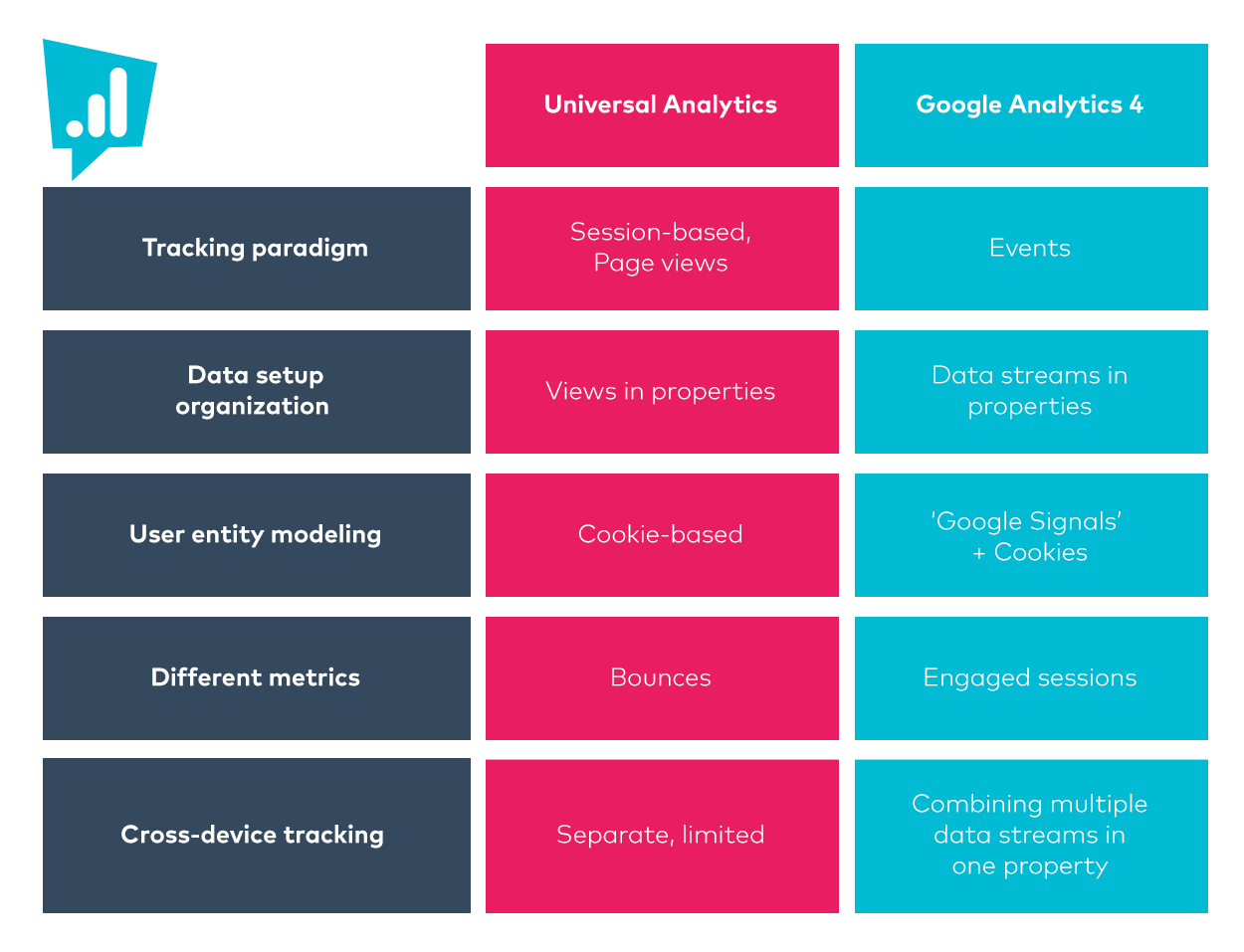 A powerful combination for detailed optimization – GA4 and artificial intelligence
As the use of artificial intelligence (Artificial Intelligence) is increasingly present, Google has also applied AI in its new version of the tracking tool with the help of machine learning, intending to provide users with the best and most advanced functionality as well as a better understanding of user behaviour on the website or application.
The use of artificial intelligence opens the possibility for more detailed, accurate and automated data collection and analysis by providing suggestions for optimization based on the collected information about the interests and behavior of users within the website or application.
Why is it important to upgrade to GA4 before July 1st?
As we said, GA4 is different from its predecessor, so it is not possible to completely migrate the collected data to the new version. The latest version brings a new interface with which you need to familiarize yourself in detail to continue monitoring and reporting on the collected data as painlessly as possible.
It is crucial to prepare for the significant change that follows after July 1st, which requires testing and debugging, which will be further complicated if you wait until the last day to switch to the new version due to the lack of historical data with which it is possible to compare and further optimize reporting.
Although moving to GA4 seems very challenging, avoiding or giving up on the migration loses many of the functionalities that GA4 offers. In addition, tracking and analyzing visitors and creating a target group is made even more difficult due to the lack of data about the audience that visits the site or application after Universal Analytics ceases to work.
If you need professional support during this process, or advertising your business on Google platforms, feel free to contact us, and we will do our best to find the best solution together.