Landing Pages: Definition, Purpose, and Types
When talking about digital marketing, we come across landing pages as standalone pages designed with marketing campaigns in mind. 
They represent the place where the visitor lands after clicking on a particular element in the browser. This can be an AdWords ad, email link, search query result, or something similar. As such, landing pages are an integral part of the customer's digital journey. They serve as core components of activities such as advertising campaigns. 
In terms of campaigns tailored to lead generation, studies have shown that companies with 15 landing pages manage to generate 50% more leads than companies with only 10 landing pages. Moreover, according to estimates, the average landing page conversion rate is between 1% and 3%. 
The trick behind the efficiency of landing pages is that they are designed with a specific goal in mind – conversion. 
In order to accomplish that, the landing page always incorporates several key elements. First off, there is a core message that informs buyers of what they stand to gain from the offer (it highlights the value proposition). Secondly, the page features useful information about a product or service you put forward. Moving on, we have to underline web design as a vital aspect of the whole presentation. The basic rule it needs to match your offer and target audience. In this sense, the design is the visual face of your brand. The next element is the technical performance of the pages. It relates to how fast they load, their mobile-friendliness, as well as SEO. Mobile optimization is of paramount importance in the light of the number of mobile searches eclipsing desktop searches. 
As for SEO activities, they contribute to the organic visibility of individual pages and the website as a whole. Here, we have a slew of specific tactics that prompt Google algorithms to rank you faster and better. 
Finally, a call to action (CTA) is the heart and soul of a landing page. It is supposed to influence user behavior and spur a specific action. CTA can, for instance, persuade people to subscribe to your newsletter or buy the latest product. Ideally, a user is able to instantly recognize the nature of the CTA and initiate it with just one click. 
In this sense, landing pages differ from other varieties of web pages that usually involve many different goals. Therefore, to fully grasp the distinction between landing pages and other aspects of your web presentation, such as the homepage, we will analyze the lines of distinction between organic and paid search. 
Landing Pages: Organic Search vs. Paid Search Traffic 
Right off the bat, we need to answer one simple question: "What is a landing page?". This term signifies a specially designed page within the broader context of your website. 
First of all, a landing page can serve as the backbone of paid traffic campaigns via Google Adwords and similar platforms. Secondly, they are often used in the field of SEO, where they play the role of attracting and directing organic traffic. 
The picture below shows a typical example of Search Engine Result Page (SERP). It's displayed whenever a user issues a query: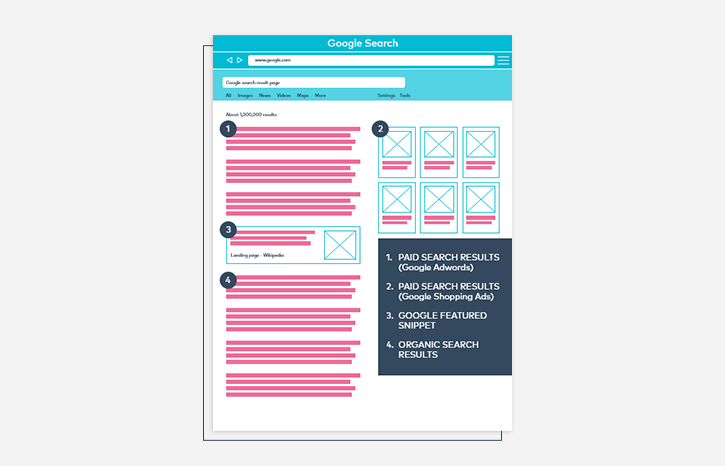 Image 1: Overview of a Search Engine Result Page
There are four main areas to pay attention to here:
Paid search results: Google AdWords

Paid search results: Google Shopping ads

Google Featured Snippet

Organic search 
Organic search results (#4) are found at the bottom of the page. They are displayed by Google in response to your search engine query. These results are the very reason why users are able to find you online. Here, we come across SEO activities that lead to higher positioning of your website in organic search. We shall address this in a bit more detail later. For now, it's worth pointing out that the landing page can act as a nexus connecting users to other pages on your site. 
Paid search results (#1 and #2) are different from organic results. To fuel paid advertising, you need to choose an exact spot for your link and of course, pay for it too. You can use this link to send customers to your homepage or some other preferred option, including landing pages crafted for the respective ad campaigns. Indeed, landing pages tend to boost the success of pay-per-click (PPC) campaigns through services like Google AdWords. They lower the costs of customer acquisition, closing the sale, and overall campaign execution. This is all under the assumption that these pages are well integrated with the sales funnel. 
Featured Snippet (#3) is a brief summary that shows up as an answer to a user query. This element occupies a distinguished, instantly-visible place in SERP. Hence, it's an extremely valuable tool in the SEO arsenal. 
The Distinction between the Homepage and Landing Page 
Many people confuse these two types of web pages. In order to eliminate confusion, we should take a look at the following diagram: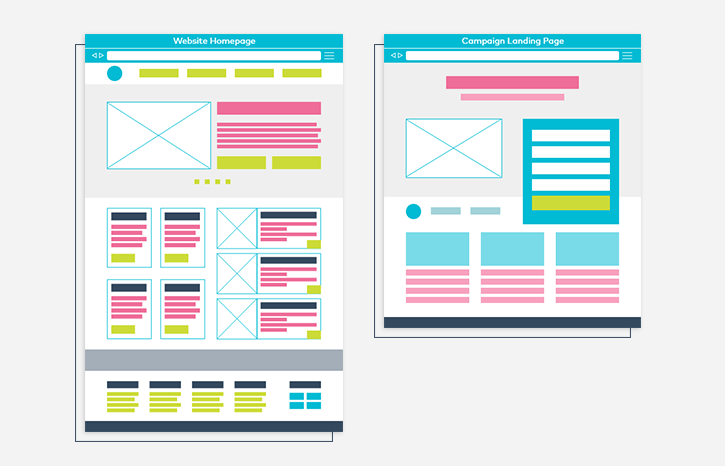 Image 2: Homepage vs Landing page
The green sections on two diagrams designate page links. As you can see, the homepage has 43 of them, while the landing page contains only one. This is a massive discrepancy, but it's actually quite a common one at that. Namely, practical tests via the Unbounce Landing Page Analyzer have confirmed that fewer links on landing pages improve the paid advertising conversion rate. The reason is simple: there are no unnecessary distractions that negatively affect the buying process. 
And that's why marketing professionals seeking to conduct paid advertising always leverage separate landing pages for each campaign and use them as the ultimate destinations for their ads.  
Optimization for maximum Results 
Landing page optimization is the chief task to tackle. 
The activities revolve around market research, precise audience targeting, and page testing. When it comes to testing, you can employ the A/B technique to identify the best page version from the stack of prototypes. On the other hand, lack of optimization is a serious problem that prevents your pages from yielding optimal results. To step up the game on this front, rely on the principles of good web design and white-hat SEO. Always do your homework: know who you want to reach and what keywords aid you in that attempt. 
Furthermore, remember that simplicity is at the very core of why landing pages are the best instrument for improving conversions. Contrariwise, visual noise, overly complicated design, and confusing navigation are the enemies of conversion. 
So, embrace "less is more" philosophy as your lodestar. 
For example, don't display a myriad of links and a ton of information right away – stick to the essentials only. Highlight your tempting offer and get customers familiar with your value proposition. Resist the temptation to sell aggressively. You first make a good first impression and gain trust. Thus, respect customers' time and get to the point right away. Invest in a good copy as a final ingredient for success. 
Different Types of Landing Pages
There are two basic structural types of landing pages:
Lead Generation Landing Pages

utilize web forms instead of conventional CTAs and aim to gather personal information regarding name, address, email. This is the main type of landing page used in B2B marketing. When devising multiple campaigns, you may want to create a separate landing page for each one. Also, be ready to offer something in return, such as free content (webinars, e-book, and such).

Click-Through Landing Pages

are widely used for e-commerce. Their defining trait is a simple CTA – usually in the form of a button prompting users to purchase a product or service. To achieve desired effects, your offers should come bundled with useful information and quality images.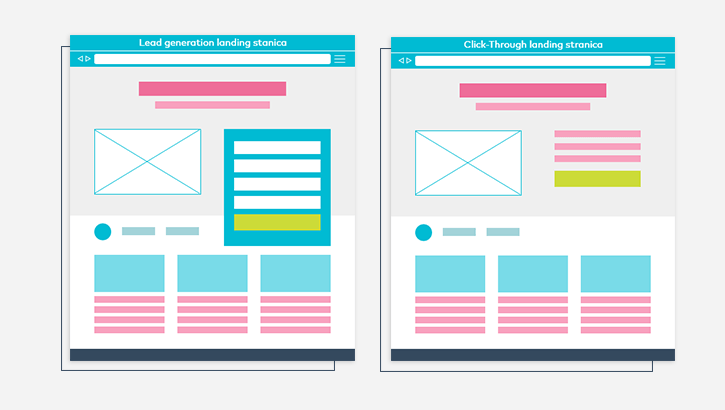 Image 3: Lead generation vs Click-through landing page
Conclusion 
We hope we successfully answered the question from before: "What is a landing page". 
But, we think it makes a lot of sense to revisit the main points. The landing page is a powerful and accurate tool for enhancing your internet presence. It can help in the implementation of a whole spectrum of digital strategies, from organic and paid search. 
Well-optimized and purpose-built pages generate leads and spur conversion. This is just a glimpse of all the possibilities and functions geared toward business success. Taking their sheer value and versatility into account, it's clear that every business organization requires great landing pages.  The only issue is landing pages have to be used right. In other words, optimization for conversions is the pathway to enriching your digital marketing. 
So, the task ahead of you is evident. Design landing pages with a clear purpose and make them fit into the bigger picture— your website and campaigns. Make sure visitors realize the value of your brand and related offerings right away. 
In case you require help attaining these objectives, don't hesitate to contact us. 
Zoran Zivkovic