Are Facebook Groups Successors of Forums?
Here is the Answer and Tips on How to Use Them
Facebook is an undisputed leader in a booming social media landscape. 
Millions of individual users constitute the system of global interconnectedness. This grid is constantly evolving and changing. A recent major piece of news comes in the form of additional features and functions for Facebook Groups. The move is expected to give much more weight to the group component of social networking. It echoes changes in user behavior, as well as ambitious plans the social king has for the future. It seems people have grown quite eager to unite around shared interests, passions, and aspirations. These binding materials strengthen connections between them, fostering exclusive communities. 
Businesses must not stand idle as these processes unravel. In fact, they need to tap into them in order to win new customers over. This is a chance to amplify your messages and extend your reach. Here is how it all plays out. 
Back to the Social Basis 
Sociology offers us a door to understanding social networks. The basic definition would be that these are platforms for connecting sets of social actors. These actors create innumerous ties and points of convergence. Virtual nexuses that form, as a result, promote cooperation, spread information, and inspire action. This state of affairs has enabled modern giants in the league of Facebook to become digital powerhouses. They have a profound impact on the relationships and interactions between individuals and organizations. 
In this vast space, groups are self-organizing and emergent units. We can notice users constantly clustering around certain topics, interests, hobbies, and activities. Through group membership, they strive to express themselves and fulfill the basic human need for belonging. Back in the old days, forums were all the rage in the online realm. They attracted people of similar inclinations and sensibilities, effectively serving as predecessors of groups. At the same time, they were places of heated discussions and arguments. 
Their glory days are long gone. We still remember forums, and some of us still frequent them. I guess we are still fond of the way how everything was neatly organized. However, it is clear that groups have pushed many forums to the brink of extinction.  
It is Official, Folks 
This prominent trend comes as no surprise to people in tune with social media shifts. Take the example of the annual Facebook F8 Conference, which sheds light on a direction in which the network is heading. This year, the officials announced changes and updates for groups. This is a big deal because groups have been neglected for years and years. 
Now, they are poised to take center stage instead of being a missing link of communication.  Even Facebook pages can now create a new group or join an existing one. Due to tighter cooperation and exchange, this could be an amazing monetization opportunity. 
All of this comes at the expense of the bread-and-butter of Facebook experience, the News Feed.  We know this because the revamped Facebook user interface (UI) has a Groups tab. It showcases a personalized feed of activities across groups one is a member of. Not only that, but there are now group recommendations.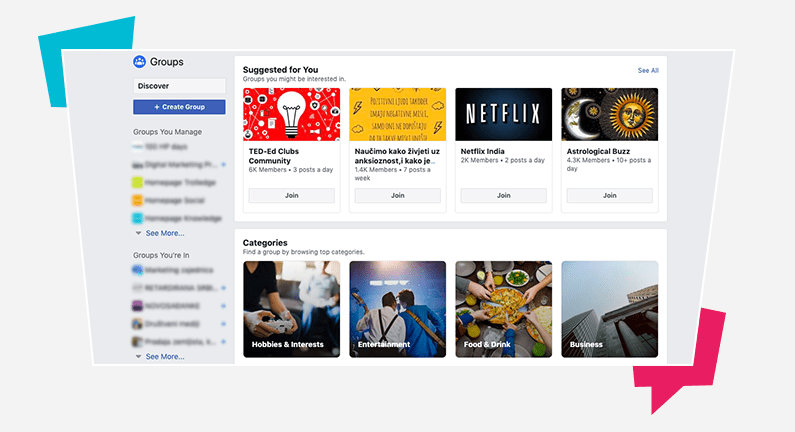 Facebook Group tab overview
Furthermore, the News Feed will start displaying group-related content. This probably indicates an algorithm tweak geared toward solving deficiencies associated with the content distribution. Namely, it has always been hard to gain a clear thematic overview and filter unwanted content. Groups will alleviate these issues and give us a better structure and organization.  On top of all that, Facebook is rolling in new dedicated features for specific groups (communities). They should account for the fact that different groups have varying wants and needs. 
Hence, as it stands, groups will soon accumulate more features than forums ever head. That also means group administrators will have more options but even more significant responsibilities. 
Unlocking the Business Value 
It is not hard to see why groups are getting so much attention. First off, the behavior of groups is specific in a few ways. There is often a high level of cohesion and coordination. People want to be shielded from the negativity that plagues public discussions. Thus, groups carry more influence than scattered, micro-level units of individual users. As more closed spaces of like-minded users, they also lead to higher engagement than Facebook Pages. Secondly, we have to take into account that Facebook wants to leave manipulations, privacy concerns, and fake news scandals behind them. The best way to do that is to demonstrate devotion to building organic communities. 
And thirdly, there are many ways a brand can leverage groups for promotion. Here at Homepage, we embrace the human-centric approach to communication planning and execution. Before assessing online tools and their commercial potential, we need to get to know the audience our clients want to reach. Our research is targeted out online habits and preferences. We have to see what people like to read, share, watch, like, and comment on. And the main thing to keep in mind here is groups play a vital role in driving this behavior and social signals that stem from it. We've seen this in practice with our group "Digital Marketing Professionals" (in Serbian). It exploded in less than a month. In the context of our region and for a niche group, more than 2,000 members is a very respectable number. 
However, it is not just about the sheer size, but the quality of connections. Groups are a real gold mine for those who know how to steer user behavior.
Tricks of the Trade 
There is no shortage of amazing tactics to make it happen. Well, one could, for instance, share useful blog posts. Let us say you tackle a relevant topic and provide deeper insights into it. Your audience is bound to be excited about that. This approach diverges from the old content and marketing strategies that focused on littering News Feed. While sacrificing reach, the group-based tactic is much more precise. It leads to higher engagement rates and a stronger sense of community. 
Of course, the trick is to avoid being too pushy. Sales pitches are not the way to go— people trust genuine peer recommendations much more than some blatant bragging. Besides, spamming and advertising are strictly forbidden in many groups. Yes, you can act as a founder/administrator of the group, but that is not necessarily a fruitful strategy. It all comes down to connecting with followers on a meaningful level. The group is not about you, but people who form it. In other words, groups are at their best as grassroots entities, not some brand fan clubs. So, you have to come up with a solid plan that focuses on offering users value. Rally them around your mission and support their causes. Take part in conversations that revolve around your industry trends, news, events, and other goings-on. Monitor your brand mentions and react to them if needed. Make sure to provide useful information and educate people. Reward and make them feel special, as a part of an exclusive clique. Pay close attention to your ambassadors, advocates, and loyal customers. Stay current, post regularly, and make good on your promises. 
Those are the ways to nurture a devout community and elevate your brand. 
The Art of Socializing 
Groups are here to stay and change the way we interact digitally. So, it would help if you observed the social media landscape through the lens of its users. This may seem like an indirect route to your goals, but it pays rich dividends in due time. When groups get behind a brand, it brings more benefits than having an army of disjointed followers around. We have shown you how businesses of all sizes can capitalize on new features, additions, and algorithm changes. Your task is to formulate a viable game plan or hire a suitable agency to develop it for you. 
While at it, you should not go overboard with self-promotion. Take advantage of groups via smart, advanced marketing strategy. Earn trust and loyalty organically. Build a big, engaged audience and keep people coming back for more.
It is time to establish a strong foothold in a saturated social ecosystem.